Steam Stopper Testimonials
– These Steam Stopper Testimonials are from our very happy customers.
Please email your Testimonials to us from our contact us page.
Great service & job
Under promised & over delivered
Thought this type of business was a thing of the past
The tenant is an architect and she was impressed
Just mentioned as no doubt she will sing the praises of Steam Stoppers
"Steam stopper Does exactly what it says it does, It Stopped my Bathroom Steam, great product"
"Bathroom Direct were able to solve our mould problems in our bathroom by supplying us with a Steam Stopper, which holds shower steam in the cubicle so it does not condense on the walls.
Our shower was not of a standard size, but with advice and assistance from Charles at Bathroom Direct we were easily able to obtain and fit a Steam Stopper to do the job."
Many thanks.
Contacted them to install a steam stopper for my newly painted bathroom. The guys came and installed no fuss. The steam stopper helps greatly with a dryer bathroom and I am sure will be along while before will need to paint again!"
"Steam stopper arrived and I've already installed it and tried it out. Brilliant. Works perfect, as I expected."
"Yesterday I installed the Steam Stopper on my shower the results were amazing, and I'm loving it."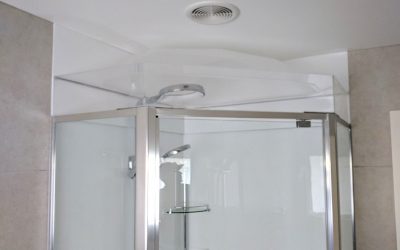 Some showers need extra height added to enable a Steam Stopper to be added as the Shower rose is above the shower door. With this one we added height by folding Clear Acrylic to the shape of the Shower Door to a height that enabled the Steam Stopper to fit...
read more