Bath Dome Steam Stopper 1675×760
Is now available.
Un-trimmed BathDome Steam Stopper
The bath dome is shipped out untrimmed at 1700 x 780. The reason for this is that most bath installs vary and we want to supply one that will can be modified to fit most shower over bath installations. The Bathdome is suitable for either corner or alcove installations. and we do recommend a door that covers the complete front of your installation to get the best efficiency of your Bathdome.
Click image to enlarge
This Bath Dome by Steam Stopper is designed to fit  onto a shower over bath. 
It will provide a warm shower environment and help to reduce steam in your bathroom. 
This Bath Dome by Steam Stopper can fit either an alcove or corner bath installation.
DIY or install service available
Contact us now for your nearest supplier/installer
You may need to trim it to fit to your specific shower over bath.
The Bath Dome will arrive to you
cut at 1680 x 770mm
To allow for your walls that may not square which often happens in existing houses.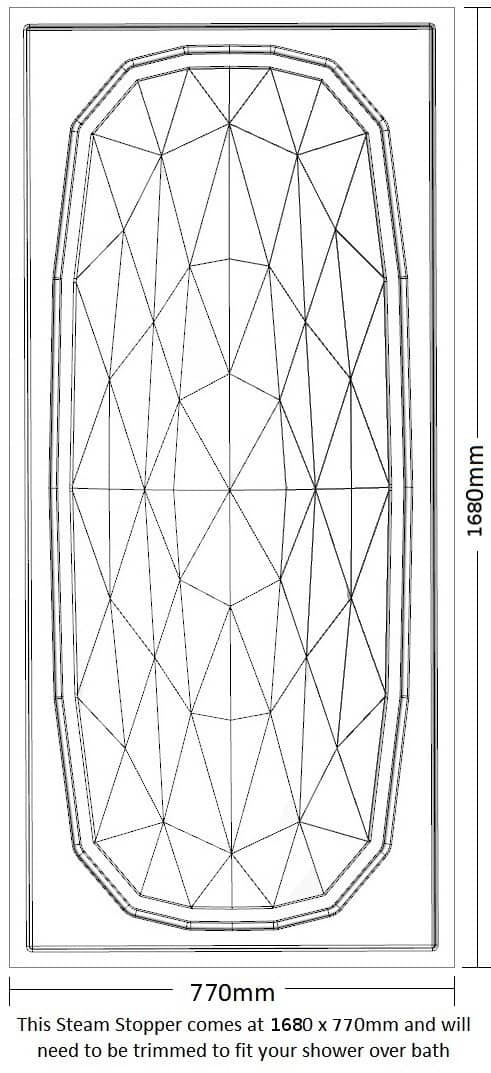 *Please note*
The Bath Dome – Steam Stopper will need to be trimmed to suit your shower, you will find the cutting instructions here.
1675 x 760 Bath Dome
Steam Stopper Recap:
Minimum Overall cut size 1620 x 720mm
Untrimmed size  1700 x 800mm